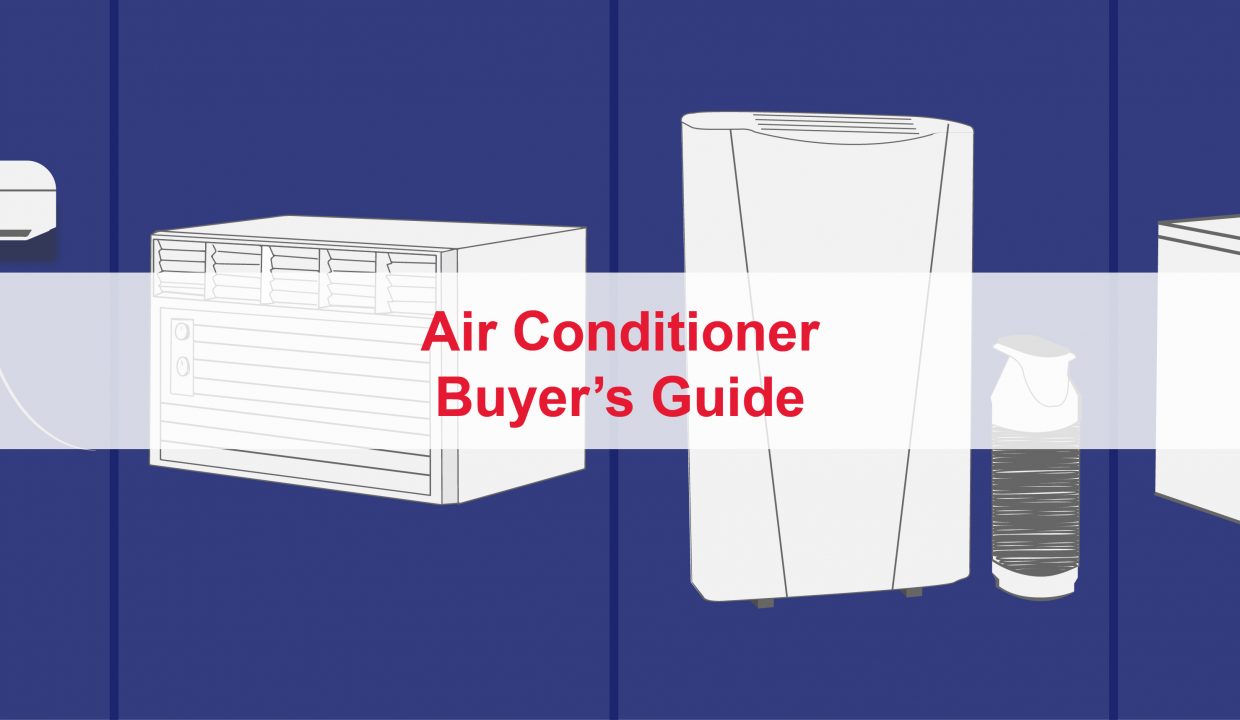 Air Conditioner Buyer's Guide
Guelph is famous for its abundance of century homes. And while these homes are known for their character and charm, they're not known to be outfitted with the latest features, including central air conditioning. So as the temperature continues to rise and you start to weigh your air conditioner options, I felt it was the perfect time to provide a complete overview of air conditioning options for any home. In this blog post, I'll cover the different types of air conditioners, how to choose the right air conditioner for your home and factors to consider when purchasing.
As always, if you have any questions or would like a central air installer recommendation, I encourage you to reach out to me by phone at 519-993-5656 or by email using the contact form found on my contact page. I would be more than happy to help you any way I can.
The Different Types of Air Conditioners
When it comes to air conditioners, you have four options: portable, window, split-ductless and central air. And while each is focused on cooling you and your home, they all go about it in their own way.
Portable Air Conditioners
Portable air conditioners are standalone units that are easy to install, generally tool-free and can be installed by any homeowner. These units use a plastic tube to draw air in from outside and come in capacities small enough to cool a single room all the way up to larger sizes capable of cooling small apartments or multiple rooms. It's worth mentioning that these units are typically more expensive than window units and because they don't sit in the window they tend to be a bit noisier and take up more space. And don't let their name fool you, these units are quite large and can weigh anywhere from 50-80 pounds— making them more cumbersome than their "portable" name implies.
Window Air Conditioners
These are the most common air conditioners I see aside from central air. Partially because they tend to be much more affordable than other options, but also because they sit up out of the way and tend to be a bit quieter because they sit partially outside. Like portable air conditioners, window air conditioners can also be found in a variety of sizes, from small 5,000-6,500 BTU units all the way up to large 9,800-12,500 BTU units. Depending on their size and where they're placed, they can cool down single rooms, entire floors and small to medium-sized apartments.
Split Ductless Air Conditioners
Split ductless air conditioners are not as common as some of the other options. This is because they are usually more expensive than windows and portable units and also require professional installation. Typically, I see these units in garages and sheds that are used for something else besides storing garden tools and cars— think music studios, home offices, yoga studios, etc. For homeowners looking for the quietest and best way to cool a small space, split-ductless is undoubtedly the way to go.
Central Air Conditioning
This is the most luxurious of the four options, not only because of its cooling power but also because it's extremely quiet and doesn't take up any additional space in your home. That being said, central air is also the most expensive option because it must be installed by a professional and is more comprehensive. Keep in mind, these systems tend to be much more energy-efficient than multiple windows or portable units and can end up saving you money in the long run. If you think central air conditioning is right for your home, I recommend shopping around. Many companies run promotions throughout the year and if it's also time to replace your furnace, you can sometimes save with bundle deals.
Picking the Right Air Conditioner for Your Home
Now that you know the different types of air conditioners, you're probably left wondering "which one is right for me?". Don't worry, I've compiled a list of reasons to buy each specific type of air conditioning unit below.
Buy a Portable Air Conditioner Unit if:
You live in an apartment or are currently renting your home
You're looking to cool a small area (1-2 rooms)
Noise is not an issue
Space is not a concern
Buy a Window Air Conditioner Unit if:
You live in an apartment or are currently renting your home
You're looking to cool a small area (1-2 rooms)
You're searching for a relatively inexpensive option
You're concerned about the noise
Space is also a concern
Buy a Split Ductless Air Conditioner if:
Noise is a concern
You're looking to cool a small space
You own your home
Buy a Central Air Conditioning System if:
You own your home (Bonus: a central air conditioning system is also a great selling feature)
You want to cool your entire home
You want the most reliable option
Cost is not a determining factor
Energy-efficiency is important to you (Central air systems make up for their hefty up-front cost by saving you money on your utilities versus multiple window/portable units)
Purchasing Factors
By now, I'm sure you've got a good idea of what type of air conditioning unit is right for you. If your answer is a window or portable air conditioner, then your job isn't done yet. There are hundreds and thousands of different units, each with their own list of features and benefits, so knowing what to look for can help make your purchase process as easy as possible. Below are just some of the main factors I recommend considering when purchasing a window or portable air conditioner.
And for those of you who are leaning towards a split ductless air conditioner or central air conditioning system, contact a professional to get your process going. Many of the companies in the Guelph, Kitchener, Cambridge and Waterloo areas can help you with installation, setup, learning how to operate your system and even give you some setting tips to help you save some money.
Size
When I say the size I'm not referring to the physical size of the air conditioner (though that is also sometimes important), but rather its BTU capacity. Depending on the size of the room (or rooms) you are trying to cool, you may need a unit with a larger BTU capacity. As a general rule, you need 20 BTU per square foot. To find your ideal BTU size, multiply the length of the room you're trying to cool by its width and then multiply by 20. This will give you your approximate BTU requirement. For example, to cool a 15' x 20' room you'd need a unit with a BTU capacity of approximately 6,000.
However, there are exceptions to this rule.
If the room has taller ceilings, consider increasing your BTU size
If the room is shaded for most of the day, consider reducing the capacity by 10 percent
If the room receives a lot of sunlight, consider increasing the capacity by 10 percent
Add 600 BTU for each additional person if the room regularly occupies more than two people
If the air conditioner will be placed in the kitchen, consider increasing the capacity by 4,000 BTU
If a door does not separate two adjoining rooms, use the combined square footage of both rooms to calculate your ideal BTU capacity
Noise
As I mentioned earlier, each type of air conditioning unit varies in terms of the amount of noise it produces. This is important to consider when purchasing the ideal unit for your home because it can be quite annoying to some homeowners. If your air conditioner is quite noisy it can make it tough to hear a tv, someone talking or in some cases a doorbell. And if the unit will be placed in a bedroom, it can also make it tough for some people to fall asleep.
Adjustability
Window location is key to optimizing the effectiveness of your air conditioner. If the window is centrally-located, your air conditioner should have no problem cooling down the desired space. However, if the window isn't in a central position, you might want to consider searching for a unit that has an adjustable fan arm or purchasing a floor fan to help guide the cold air to your desired spot.
Filter Location
Filter location is more critical in window units than portable units. This is because window units typically sit both inside and outside and can be a little trickier to remove and reinstall repeatedly. You should expect to clean your filter often so be sure to purchase a unit that places the filter in an easy to access spot.
Smart Features
Just like the rest of our homes these days, air conditioners are also becoming more connected. For some, this may not be an important factor when it comes to purchasing an air conditioner, but if having the ability to control your air conditioner from anywhere using your smartphone sounds like a feature you'd like, make sure to look for one that offers smart capabilities.
Warranty
Warranties are an essential factor in any purchasing decision. The same goes for air conditioners. Some units offer longer warranties than others so be sure to ask the salesperson or check the manufacturer's website for complete warranty details.
I hope that you now have a better understanding of the different types of air conditioners and which option might be best for your home's needs. Unfortunately, there is far too much information on air conditioners for me to cover it all here, but if you have any questions at all or would like some assistance finding a local central air installer, please contact me by phone or email.