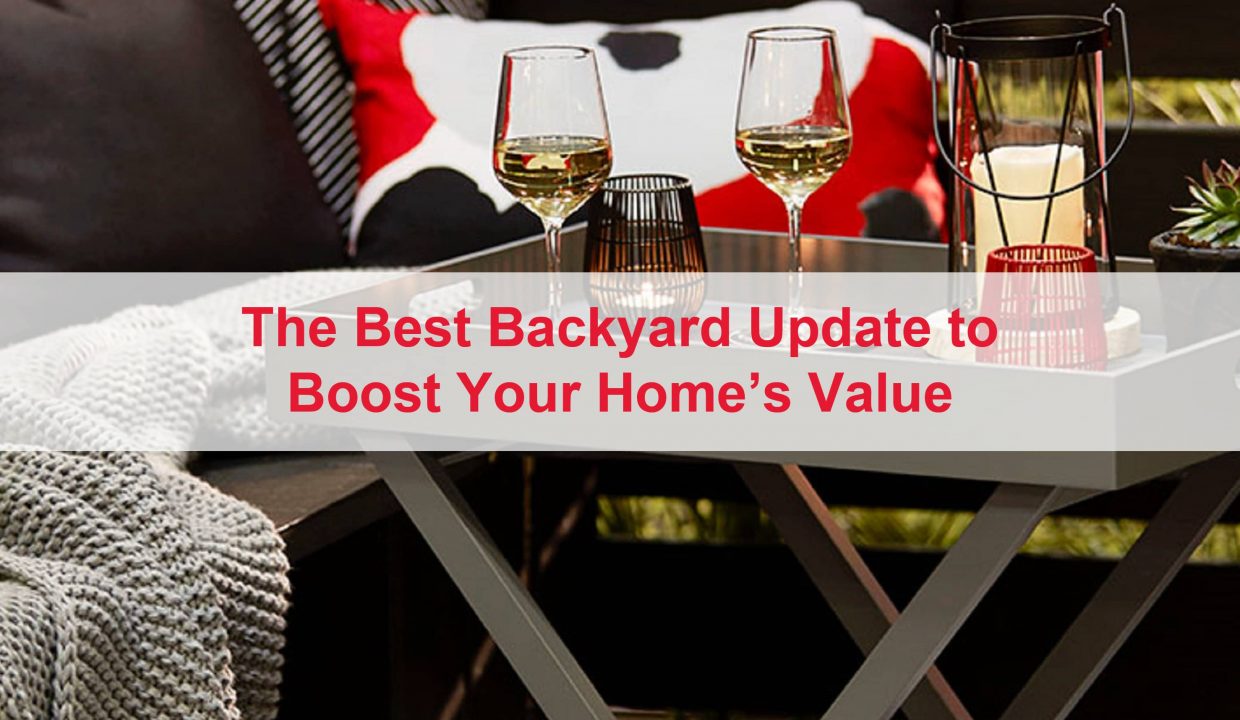 The Best Backyard Update to Boost Your Home's Value
With summer officially coming to a close at the end of this month, I hope you and your family got to enjoy as much time outside as you could. If during your time in your own backyard, you noticed a couple of things you want to upgrade or change about your space, this is the blog for you! The right backyard improvements can really enhance your living space and add value to your home. Continuing your renovations outside and adding your backyard to your to-do list is a great way to boost overall appeal and marketability. Here are some basic backyard renovations you can do that will give you the best return on investment and increase your property value when it's time to sell.
Add Functionality
Making your backyard more functional and usable is the first step you should consider when doing a backyard renovation. No one wants to spend time in the backyard if it isn't usable! Creating or updating your outdoor entertaining space is one of the best ways you can increase your home's value and appeal. Adding a new deck or patio will encourage you to get outside and enjoy the space more while also making it more attractive to future potential buyers. Make sure you don't forget to incorporate plenty of seating on your new deck or patio! You'd be surprised how many homeowners make the mistake of not having adequate outdoor seating areas to make the space comfortable for the whole family. Whether it's for a family dinner or a friend's birthday party, make sure you have enough room for everyone to sit and enjoy your backyard. Essentially, your backyard should be conducive to entertainment with space to barbecue, dine, relax, and entertain guests.
Create Privacy
Having a private outdoor space is becoming more and more desirable for homeowners. Fences and tall greenery are great for creating separation between your yard and your neighbours' yards or public areas. Replace or add a new privacy fence to create a more secluded space – nothing is worse than a beautiful home surrounded by a rickety old fence. Your fence also serves as a safety feature for your home and acts as a wall to safeguard children and pets at play. If you don't like the look of a fenced-in backyard, you can always take a fence as an opportunity for more landscaping. I recommend adding privacy hedges, climbing plants or shrubs, and other greenery to create a protected feel to your backyard. You can also incorporate some umbrellas or a pergola to add a secluded feel to your space.
Plant Trees
This one is definitely more of an investment into the future value of your home because well placed mature trees almost always add to your property's appeal. Especially in new neighbourhoods or subdivisions where greenery is sparser, planting new trees now is a great investment in your future. I always recommend clients plant one or two trees as soon as they move into a new build so that when it comes time to sell, whether 10 or 40 years down the line, they will be a more substantial size. Trees are actually one of the best investments into your home's value because they are one of the only features to appreciate over time if taken care of properly. Remember to stick to medium-sized trees and plant them in strategic places that will not overshadow your home. You can always ask your local garden centre for advice on what trees are the best fit for your property and goals.
Keep Landscaping Simple
Outside of planting trees, you should also focus on adding easy to care for greenery to your home. It is a common mistake for homeowners to let their amazing curb appeal efforts stop in the front yard. You should always try to bring your appealing landscaping into the backyard to have a more cohesive landscape throughout the entirety of your home. This consistency will reflect well on the upkeep and condition of your home when it comes time to sell. Try not to overdo it though! If your landscaping looks like too much work and maintenance for potential homebuyers, you might scare them away. I often recommend avoiding extravagant gardens, complicated water features, and any other landscaping elements that require regular heavy maintenance.
Keep Up with Maintenance
Speaking of maintenance, make sure you keep up with it! I realize that this is technically not an upgrade, but it is the task that will keep up the value of your home. Do your future self a favour and always stay on top of your backyard maintenance to keep it looking appealing and clean all year long. Not only will this keep your outdoor space the best it can be for your own use, but it will also drastically cut down on the amount of work you need to do when it comes time to sell. If you are not using your backyard space a lot, it can be tempting to let it slip a little because it feels like the area no one will see. Don't make this mistake or you will have a ton of fixes, some of which can be expensive and time-consuming, when you are ready to sell your home. Don't let anything like your lawn or gardens get overgrown, replace any broken and damaged walkways, and keep an eye on the health of your deck.
—
I hope these tips give you some motivation to upgrade your outdoor space this fall! These renovation projects are especially useful if you are planning to sell your home in the future. Send me a message for more expert advice on where to focus your renovations so that you get the best return on investment when it comes time to sell. With my 20 years of experience and knowledge, I can help you understand what potential buyers are looking for and how best to go about renovations to add value to your property. I'd be happy to discuss your best options and where to focus your time! Contact me or call me directly at 519-993-5656 to start discussing how I can help you buy, rent, and sell your dream property.