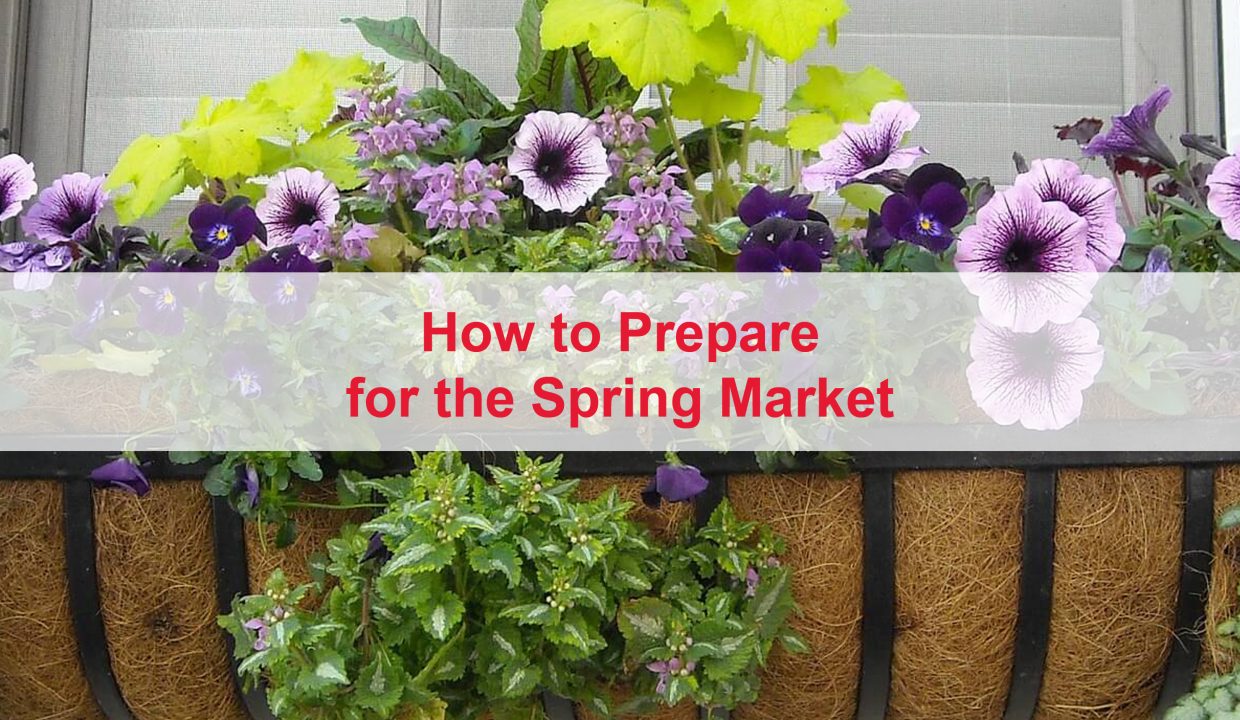 How to Prepare for the Spring Market
The spring real estate market is almost upon us! If you're thinking of selling your home, now is the perfect time to start preparing. Get a head start on the busy real estate season by starting the tidying up and/or renovating process now so your property is ready for open houses and showings come spring. In today's blog post, I thought it would be helpful to provide you with some selling tips you can start doing today to prepare your home for the spring market. These tips will help make the task of prepping your property less daunting so you feel ready and less stressed for any spring buyers.
Take it Day by Day
Over my 20 years of experience, I've worked with a lot of home sellers that are eager to get their homes prepared to put on the market. It is unrealistic to expect to be able to completely put your property together all at once in one day. While it is possible to prepare in a short time frame, thinking you can do it all at once will only add stress to your selling experience. By starting your preparations now, you can complete things more slowly to make everything more manageable. I recommend creating a checklist of all the tasks you want to complete around your home, including my tips below, so you can stay organized. Do one or two things (or however many items you can manage) on your checklist each day so you can spread out your tasks without overwhelming yourself.
Make Repairs
Do you have a list of repairs and fixes that you've been avoiding? Now is the time to get cracking on that list and tackle all the things you've become complacent to in your home. Take a walk around your home to make sure your list of repairs is complete and you are not forgetting anything. This list should include things anywhere from leaky faucets, loose doorknobs, and picture holes in your walls to broken windows and damaged roofs. For the more substantial repairs, consider hiring a professional to avoid costly mistakes and further fixes. Get everything done once and for all so you can stop procrastinating your repairs and finally feel relieved and satisfied with your home.
Improve Your Curb Appeal
Curb appeal is something we hear about a lot in the real estate industry because it is so crucial to your home's overall feeling and look. Having a clean, polished exterior can go a long way with impressing buyers before they even step foot inside your home. Now is the time to improve your landscaping and clean up your exteriors. This should include upgrading or repairing light fixtures, cleaning or replacing any outdated windows, and perhaps even a fresh paint job for a quick facelift. Your front entrance is a great area to start with because it has a huge impact on the appearance of your home as it is usually the area for first impressions. Take the time to consider new paint colours (especially for your front door), added trim details, interesting stone features, updated walkways, clean house numbers, and even your mailbox to boost your curb appeal. The extent to which you renovate and repair your home's exterior depends on its current condition. Sometimes simple repairs can be made but other times, it is more beneficial to renovate on a more substantial level. Check out my past blog to learn more about home projects you can do to instantly boost your home's curb appeal.
Home Staging
Home staging is an important step to preparing your home for the spring market because it helps your home look its absolute best for potential buyers. Staging your property will help feature its best assets and impress buyers who are hoping to visualize themselves moving in. I recommend starting your home staging with the more important rooms (like the living room, kitchen, and master bedroom), getting rid of any clutter, sticking to neutral colours if you are repainting, and depersonalizing your space as much as possible. One of the primary objectives of home staging is to encourage buyers to visualize the home as their own so you want your home to be free of any personal touches that suggest the house belongs to someone other than the buyer. Don't forget to clean before, during, and after your home preparation process to make sure your home is as fresh as possible for open houses and showings. For more home staging tips, read my blog on how to stage your home's interior to help close the sale.
Prepare Paperwork
This is normally the step that my clients dread the most but it is also one of the most crucial steps to a stress-free selling experience. We all know that potential buyers and agents are going to ask a lot of questions about your home so it is important to start collecting all your property paperwork now. Having all your papers in order before the questions start being asked will save you time, energy, and stress. Be kind to your future self and start organizing things like your utility bills, tax bills, renovation details, warranties, mortgage details, and any survey and rental contracts.
Hire a Realtor
The most critical step you can take to ensure the quick and easy sale of your home is to request a FREE home evaluation from me! If you are thinking about listing your home, it is important to know what it is valued at in the current real estate market. If you are looking for a free home evaluation in Guelph, Kitchener, Waterloo or Cambridge, I happily offer a home evaluation service with no obligation or commitment required. You'll know exactly what target price you should put the house up for, what features in a home appeal the most to buyers, any small improvements you can make to improve the home value, and what the movement in your area's real estate market looks like. My 20 years of experience and knowledge will make selling your home easier and less stressful because I can help guide you through all the home preparation processes listed above to make sure you are doing what's best for your home. Contact me or call me directly at 519-993-5656 to get your home ready for the spring market!