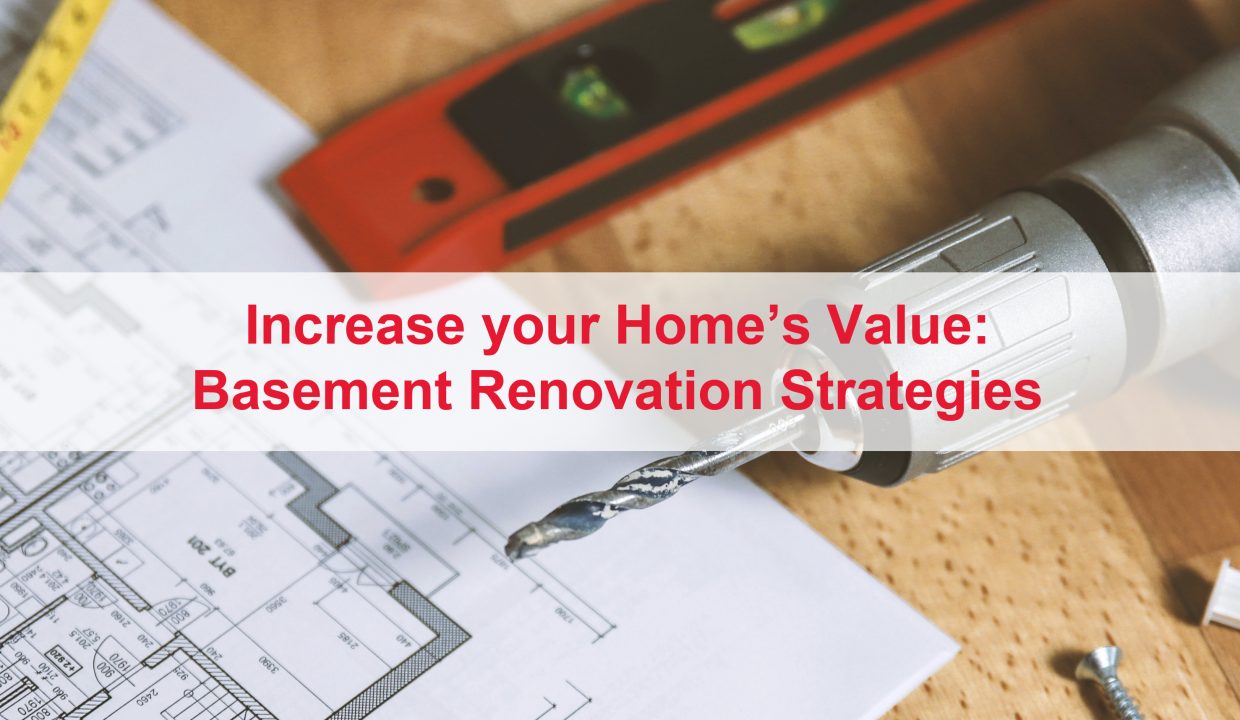 Increase Your Home's Value: Basement Renovation Strategies
Your basement has the potential to significantly increase the value of your home. Finishing or updating this space not only adds a huge amount of usable space to your property but can also increase your sale price once it's time to move. Basement renovations can add an entire story to your home and extend your square footage drastically. Finishing your basement simply gives your family more space and opens up more possibilities for your home. Even if you are not looking to move any time soon, you should view a basement renovation as an investment into your home and your sale price down the road. In today's blog, I want to outline some of the things you should keep in mind when trying to increase sale price with a basement renovation or remodel.
What Does Your Home Need?
This is the first question you should be asking yourself when considering a basement renovation. Think about what a finished and upgraded basement would bring to your home for your family. Do you need more space for additional bedrooms? Do you want to make a rec room to move your kids' activities out of your living room? Are you constantly fighting over a single bathroom? Is your laundry room too loud to be so close to your bedrooms? All of these things should be considered when deciding what to include in your basement. Essentially, you need to think about what features, space, or rooms your home is missing and add them. This will not only benefit your family now but also in the future when potential buyers will not be left feeling like your home is missing something.
Keep Windows and Doors in Mind
Basements have a bad reputation of being dark, dreary places with not a lot of natural light. If this is the feeling you get when walking down to your basement, I suggest considering adding or enlarging basement windows. You want to bring in as much natural light and ventilation as possible to your space to create a nice and bright feel. There are different types of basements including crawlspaces, full and part basements, and walkout and walkup basements. If your home has a walkout or walkup basement, I highly recommend including an exterior door to increase your sale price. It's a good idea to choose a door that lets in a lot of natural light to again combat any dark, dreary vibes. Figure out where you can safely add these features and design your renovation around them to make sure each area has some natural light.
Remember to Design Your Stairway
This may sound a bit odd, but I find that most people often forget that the stairway down to your basement is an area to focus on. If your current stairway is not in a convenient location, you should think about moving it to a better spot in your home. Always talk to a professional building inspector and consult with an architect about any plans before starting construction. Aside from meeting code, have fun with your stairs and add some interesting design elements that make them feel inviting. Creating an architectural sound staircase is a must so you might as well make the most of your stairway by making sure it works well with your other plans for your basement.
Consider Different Flooring
Practical flooring is key in your basement renovation because it is normally built on top of a concrete slab (unless you install a plywood subfloor). Your best choices are vinyl, laminate, tile, and carpet on top of concrete. I recommend taking precautions if opting for solid wood flooring because it can shrink and expand when installed below ground level, which will lead to gaps and warping. Whatever flooring choice you go for, remember to focus on what will keep your space comfortable. Anything warm and inviting is a great option for basements so pick the flooring that suits your design tastes and the rest of your basement renovation visions.
Good Lighting is a Must
Get rid of any gloomy and dingy basement vibes with lighting that makes your space bright and welcoming – especially if you want your space to become a gathering spot. The best basements will incorporate all three types of lighting: general, task, and accent. Recessed lighting, track lights, and pendants work great for basements because they can eliminate shadows when placed properly. Incorporate some task and accent lighting in the areas that need additional brightness including bookshelves, beside chairs, or on tables. Essentially, anywhere you think your family will be working, reading, or playing is a good spot to include task and accent lighting.
Create Additional Storage
I'm calling some of you out here because I know that most of you are probably using your unfinished basement as a storage centre for everything. I'm talking about all the yard work equipment, seasonal clothes and decorations, old toys or games, and anything else your family moves downstairs to avoid dealing with. If this is the case anyway, you might as well make the most of your basement renovation by adding a lot of storage space. Capitalize on the added space by creating attractive and well design built-in storage units to keep your belongings out of sight.
---
I hope these tips help you decide how best to renovate your basement to meet the specific needs of your family. With my 20 years of experience and knowledge, I can help you decide whether a basement renovation fits with your financial goals and lifestyle. If you are hoping to increase the sale price of your home, I'd be happy to discuss your best options and where to focus your time. I'm here to discuss your goals and dream living space so that I can start sending you home listings that I know you will love. Contact me or call me directly at 519-993-5656 to start discussing how I can help sell your home!