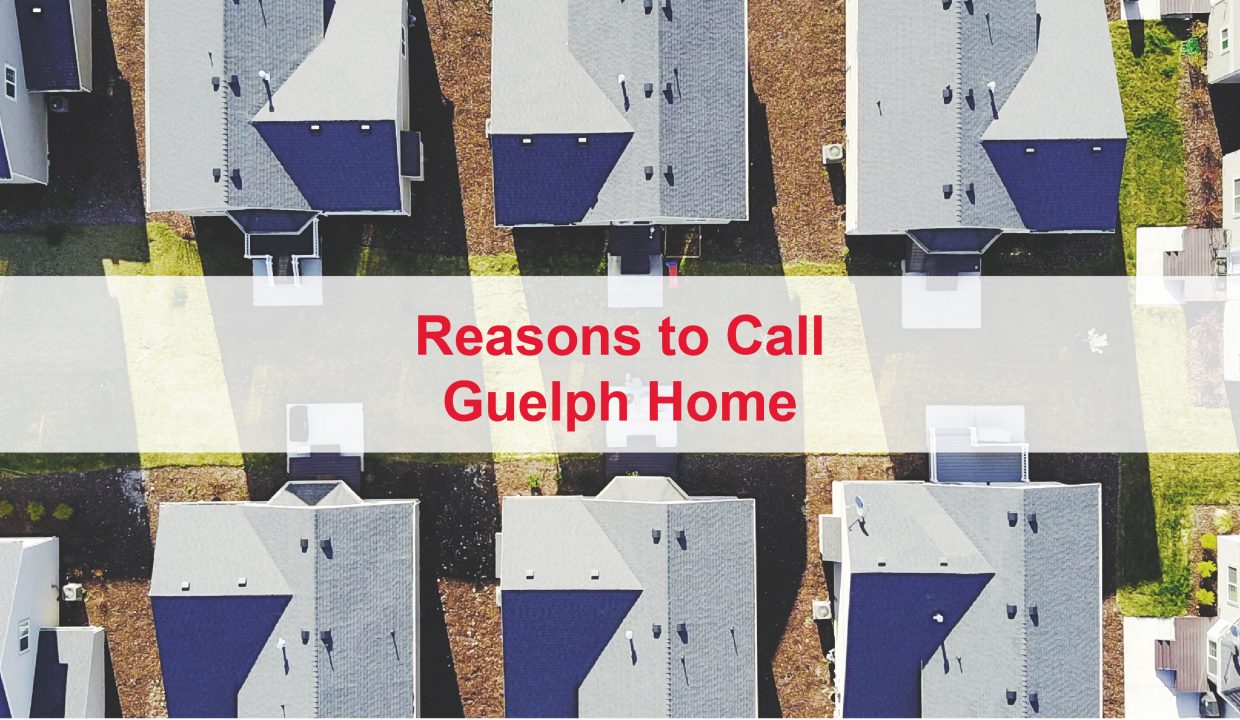 Reasons to Call Guelph Home
Many of the families and people I help find new homes for are Guelph residents simply relocating to a new part of the city. However, as Guelph continues to develop and as the real estate market continues to change in other parts of the province, I've worked with more and more people from different regions of the province and country who are looking to call Guelph home. Being a Guelphtonian myself, I know first-hand the many reasons why this city is such a great place to call home for families both big and small. So instead of answering each inquiry separately, I've decided to create this blog post dedicated to things people need to know about Guelph. I hope that it will help reassure people who may be considering moving to Guelph that they are making a smart decision and strengthen the love for the city that current residents already have.
I've decided to focus on the areas I've found the majority of people care most about, just because there are far too many reasons why Guelph is so great. If you have any questions about topics not covered in this blog, don't hesitate to reach out to me by phone or email— I'd be more than happy to help you.
Education
Besides being home to the University of Guelph, one of the country's top universities for agri-food, veterinary medicine, environmental studies and much more, Guelph also has top schools for scholars of all ages. Guelph hosts a campus for Conestoga College and also has both French and English focused elementary schools, middle schools and high schools— many of which are among the best-rated schools in the province and country. And if you prefer private schools, Guelph also has a few of those on offer too. Of course, highly rated as well. It doesn't matter what neighbourhood you prefer to call home, I guarantee you'll find a worthy school close by as your kids continue to grow.
Location
Location is one of if not the most significant factor that I find draws people into Guelph. Located just 45 minutes from Toronto and a short distance from Kitchener-Waterloo, Guelph offers big-city professionals a relatively easy commute. Not to mention, the cost of homes in Guelph is much more affordable than Toronto's. Commuters have their choice of transportation with easy access to the 401 as well as a Go Train stop right downtown. I expect that as Guelph continues to grow in popularity and develop, the existing modes of commuting with continue to improve.
Getting around
Depending on who you are, public transportation can be a significant factor in your search for a new home or can merely be an added benefit. No matter what category you fall into, Guelph's public transportation is sure to impress you. The public bus system makes travelling from one end of the city to the other simple and the entire network is relatively easy to navigate whether you're new to using public transportation or have been using it all your life. The city also has a Go train and Via Rail stop as well as a Greyhound bus depot, connecting you to cities across the country.
To get a sense of exactly how easy Guelph is to get around, check out the different route maps here.
Recreation
Whether you like to be active or prefer to stop and smell the flowers, Guelph has something to offer everyone. With over 1000 hectares of parks and 70km of trails, the city's green space is a perfect destination for families and individuals of all ages. In every neighbourhood, it seems there's a different park around every corner. Many of the city's parks offer sports surfaces like basketball courts, baseball diamonds, soccer fields as well as splash pads, skateparks, playgrounds and general green space. I recommend checking out some of the major green areas like Guelph Lake, Riverside Park and Exhibition Park, but you won't be disappointed wherever you end up.
Those are just a few of the top factors I find influence most homebuyers' decision when choosing to move to Guelph, but some other quick factors are:
Nightlife – Despite being a relatively small city, Guelph has one of the best nightlife scenes in the area.
Environmentally friendly– From its abundance of bike lanes to its fantastic waste management system, Guelph is one of the top cities in Canada when it comes to being conscious of the environment.
The sense of community – It may be home to over 130,000 people, but Guelph still offers a small-town feel and a great sense of community.
Downtown Guelph – Guelph's downtown core area is home to tons of unique shops, restaurants and bars. Whether you're a shopper, a foodie or a drink connoisseur downtown Guelph has something to offer you.
As I mentioned before, those are just some of the deciding factors I find homebuyers care most about, but I hope that it helps potential new Guelphtonians fall in love with the city like many of us already have. What I can guarantee, is that if you choose to move to Guelph, you will be greeted by a welcoming community no matter which neighbourhood you choose. And if there is any other information I can provide to help ease your decision of uprooting and moving to Guelph, please don't hesitate to call or email me. I am more than happy to answer any questions you may have and even show you around the city.
And for those of you who may be curious about what Guelph has to offer in terms of real estate, check out my current listings here.