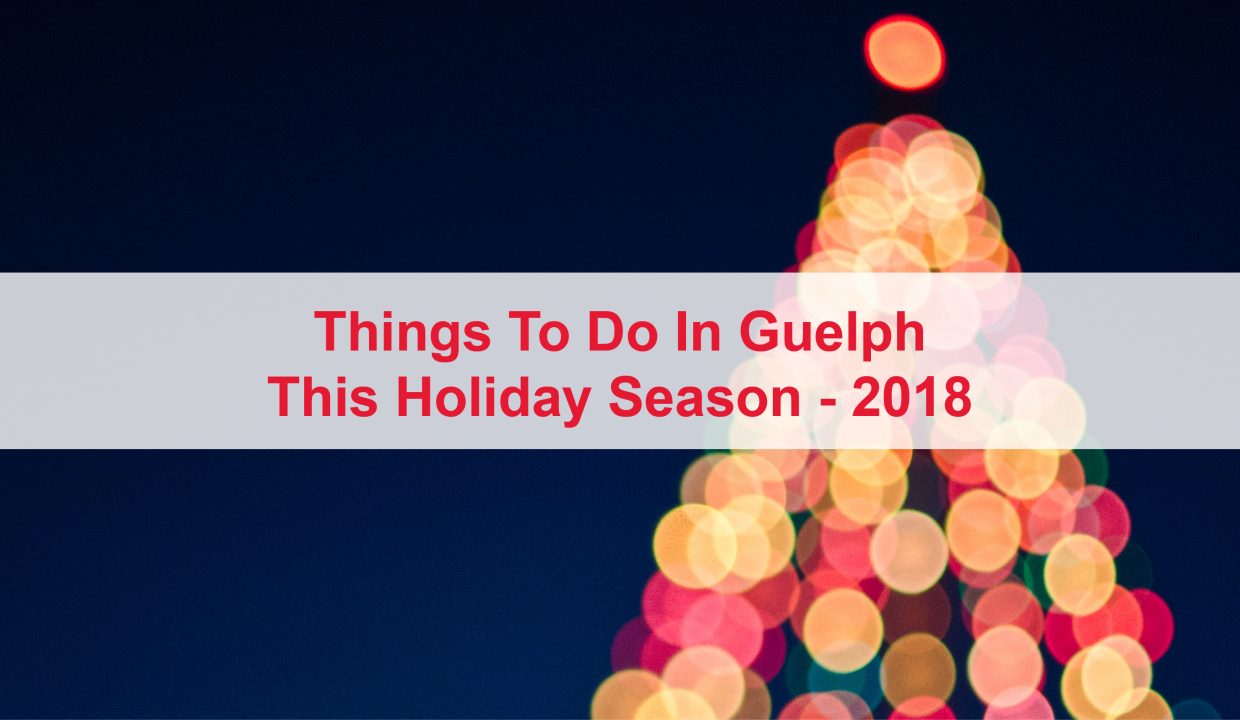 Things to do in Guelph this Holiday Season – 2018
With the holidays right around the corner, that means Christmas vacation for the kiddos and even some parents. And with all that free time on your hands, you're sure to run out of books to read, shows to watch and quite possibly things to do. But you don't have to. One of the things I love most about this time of year is the countless events and fundraisers that not only bring people together and raise good cheer, but that also helps families create special holiday memories.
As a resident of Guelph for many years, I've been fortunate enough to experience a countless number of these events and fundraisers and create a list of can't-miss events for my family and me every year. This year, in the spirit of the holidays, I've decided to share my list with you in hopes of helping your family start your own holiday traditions. Continue reading below for a number of old and new events that I consider "can't-miss" as well as links to holiday event calendars for the city of Guelph and the surrounding area.
Welcome Wreath Workshop by Royal City Nursery
December 3 @ 11:00am – 2:00pm
Royal City Nursery, 6383 Wellington Road 24, Guelph, N1H 6J4
Cost: $55
Want to learn how to make that perfect welcome wreath to get your front door, window or entryway into the holiday spirit? Then this workshop is for you. Royal City Nursery will guide you through a step-by-step workshop as you create your own custom wreath. You choose the elements, and they help you build it. No room for another wreath at your home? You can also gift the wreath to a friend, family member or co-worker as an early holiday gift. If this sounds like something you'd be interested in attending, you can purchase your tickets here. Don't wait too long as their workshops typically sell out fast!
Christmas Village Market
December 7 @ 12:00pm – December 9 @ 5:00pm
Downtown Guelph within the Old Quebec Street shops
Cost: FREE
Nothing beats the sights, sounds and smells of the holidays. Add in candy cane striped booths and the charm of Old Quebec Street, and you'd think you'd travelled to the north pole. New for this year, visit Old Quebec street to check out the Christmas Village Market and over 30 different vendor booths selling one-of-a-kind gift ideas. You can also tour the local shops for everything from stocking stuffers to holiday décor. And if you're only planning on visiting the market once, might I suggest going on Sunday? Sunday at the market is family day where they'll have ten young "mini makers" on hand selling their own unique and handmade gifts.
Mayor's Christmas Tree Lighting
December 8 @ 7:00pm – 8:00pm
Market Square, 1 Carden Street, Guelph, N1H 3A1
Cost: FREE
Nothing marks the start of the holiday season quite like the Mayor's Christmas Tree Lightning— lights, family and friends, what's not to love? Complete with live entertainment, sing-alongs, complimentary hot drinks and of course, Christmas lights, this evening is perfect for people of all ages looking to kick-off their holiday season.
Rockwood Farmer's Santa Claus Parade 2018
December 13 @ 7:00pm – 8:00pm
Rockwood/Guelph-Eramosa, Enter Latitude: 43.6127281 Longitude: -80.1326981 in your GPS
Cost: FREE
Miss the Guelph Santa Claus Parade? Don't worry, the Rockwood Farmers are hosting theirs, and it's sure to get the whole family excited about the season. Tractors, lights, floats, and Santa himself, there's something for everyone at this fun evening.
It's a Handmade Christmas! Holiday Artisan Market
December 16 @ 11:00am – 6:00pm
River Run Centre, 35 Woolwich Street, Guelph, N1E 7M2
Cost: $2 – proceeds go to Nutrition for Learning
If one Christmas market full of unique, handmade gifts wasn't enough, I highly suggest checking out the "It's a Handmade Christmas!" holiday artisan market. With over 50 vendors, you can find everything from handmade jewellery and clothing to handcrafted bath and body products and pottery. And even if you're not looking to do any shopping, there will also be food trucks and live music to get you in the spirit of the holidays.
Those are just a handful of the many events and fundraisers to be hosted around Guelph this holiday season. If you'd like to check out more events (and I highly recommend you do), I suggest visiting the Guelph Mercury events calendar here, eventbrite.ca here, or the Downtown Guelph events calendar here. Guelph and the surrounding area have no shortage of activities to offer people of all ages, and I can't think of a better way to celebrate the season with your family than by creating memories together that will last a lifetime.
Happy Holidays!