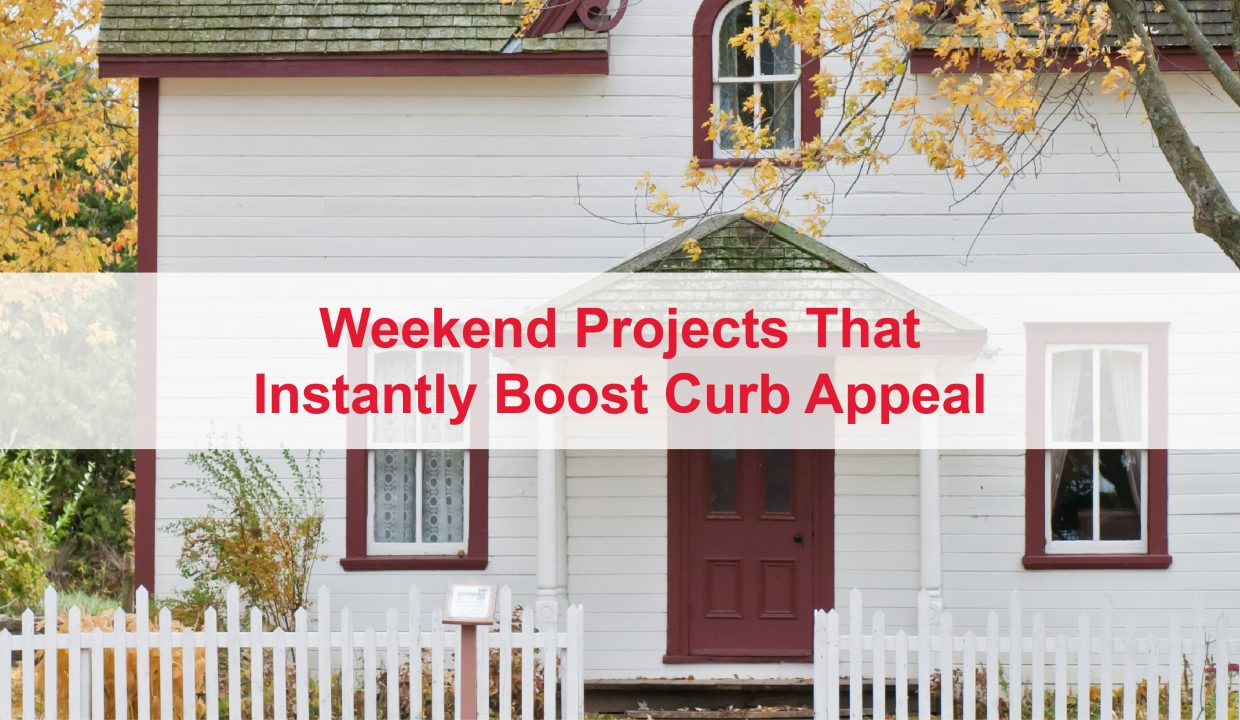 Weekend Projects That Instantly Boost Curb Appeal
With spring right around the corner, that means spring cleaning, and of course, yard work. And because a home's curb appeal is so detrimental to your home sitting on the market or selling, I thought it would be good to share a blog post with some different projects that you can do in a weekend to boost your home's curb appeal. Having a clean, polished exterior can go a long way in winning over potential buyers before they ever step foot inside your home.
Weekend Projects that Instantly Boost Curb Appeal
Clean Up
What outdoor spring cleaning list would be complete without "cleaning up". And when it comes to improving your home's curb appeal at the same time, tidying up dead leaves, trimming broken branches and picking up fallen branches are all a great place to start. But it doesn't end there. You should also look into power washing your home's siding (avoiding windows and caulking) and driveway. This will help remove any dirt and grime and make your home look new again. While you're at it, I also suggest using some glass cleaner on your windows to give them that "newly-installed" sparkle.
Add Shutters
Have you ever looked at your home and felt like something was missing? If so, shutters might just be what you need. Shutters are incredibly easy to install and go a long way to accent your home's windows— making them feel more substantial. They're also a great way for larger homes to break up that dull sea of siding and add an accent colour to your home. Window shutters are available at almost any home improvement store and come in a variety of styles, colours and materials. If you're feeling ambitious, you can even make your own!
Freshen Up Accents
Design trends change over time whether it's interior or exterior. And with the majority of homes in Guelph being built well over ten years ago, it could mean that your home is in need of a facelift. But before you start seeing dollar signs, try focusing on the accent areas of your home rather than the entire house itself. You can paint your trim, shutters and doors for a reasonable cost and vastly improve your home's curb appeal. All I suggest is that you consider current colour trends, your home's original style and keep your colour choices somewhat neutral. This will ensure you appeal to as many potential buyers as possible rather than just a handful. For inspiration, try searching Pinterest, Houzz or even hashtags like "#HomeDesign" on Instagram.
Improve Your Door's Appearance
Once you've painted your door, you can also take it one step further to improve its appearance. You can add trim to its surroundings or even place some simple décor on it to make it pop. The key is to make your front door area grab a potential buyer's attention, in a good way, and make them feel invited. And don't feel like you have to stop at just your door and its surroundings, you should also consider your front walkway, house numbers and mailbox to complete the front makeover.
Upgrade Exterior Lighting
Nothing says "uninviting" like a dark, poorly-lit home. If this sounds a little too much like your home, then consider upgrading your exterior lighting to make it more appealing. You should focus on highlighting your house number as well as lighting exterior doorways and your driveway. You may also wish to line your front walkway with light fixtures to maximize curb appeal.
Simplify Porch Furniture and Accessories
There's a time and place for those pink flamingo lawn ornaments, but when your home is listed isn't one of those times. When maximizing your home's curb appeal, you should look to have neutral coloured furniture (bright furniture sometimes works to break up single colour homes) and enough pieces so that your porch doesn't feel overpacked or empty. Unless you have a wraparound porch, you should typically try and limit yourself to a bench or a couple of chairs and a side table. Having too much furniture can make your home feel small and cramped while having not enough can make your home feel too big (yes, it's a thing) or uninviting. And if you absolutely must have some pops of colour, try using pillows, planters and other small décor pieces to introduce fun colours without overwhelming buyers.
Hide Not-So-Pretty Features
Things like air conditioners are great features when it comes to selling your home. Unfortunately for some sellers though, they can also hurt your home's curb appeal at the same time. If your home has an air conditioner in front or on the side of your home, I strongly recommend building a simple lattice fence/box around it to help hide it and make sure it remains positive when it comes to selling your home.
Tidy Up Gardens
It may still be too early to plant new flowers and greenery, but if you've been saying you should remove that bush/tree or replace/repaint your planter boxes then now is the time to do so. While these things might not be bright and colourful like new flowers, they can have the same effect on your home's curb appeal if done properly. If you do end up removing plants, remember to fill in the hole that it left.
Those are just a few of the things you can do over the course of a weekend to vastly improve your home's value and ensure you receive as much for your home as possible. The list is endless when it comes to these sorts of tasks, but I'm confident that doing any number of these things would have a positive impact on your home's value. If you have any questions regarding anything discussed above, design trends or colour choices or anything else real estate related, I encourage you to reach out to me by phone, email or on social media. I'd be more than happy to chat with you. Happy spring!