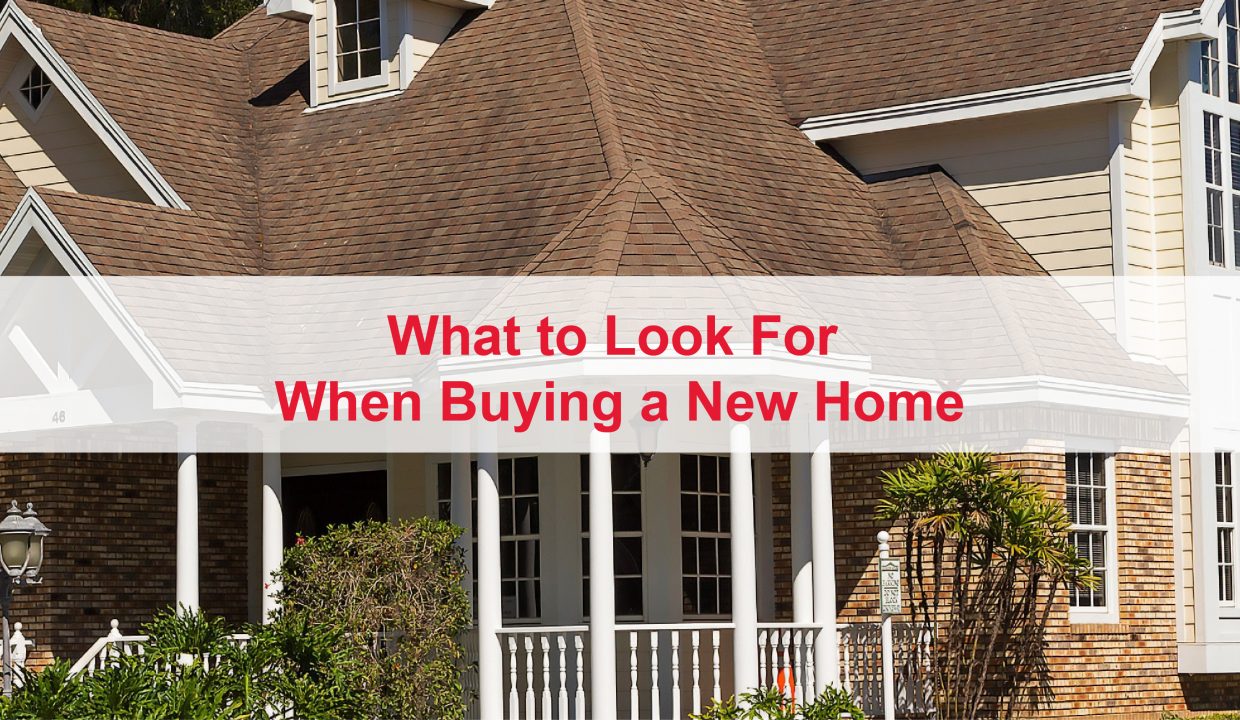 What to Look For When Buying a New Home
Whether it's your first or your fifth, buying a new home never seems to get any easier. On top of the mammoth-sized price tag, every house raises a million and one questions—some you're able to answer yourself, while others you haven't the slightest clue where to start. I've designed this blog post to help ease you, your family or anyone you know into the mindset of buying a new home. This way, the process is less likely to be overwhelming and more likely to be enjoyable for everyone involved. After all, you are buying a home! This blog is not designed to replace a realtor, but instead, get you thinking about things to look for and questions to ask as you tour potential homes with your realtor.
Main Areas of Focus
As you tour potential homes, you want to make sure you're inspecting as much of each home as possible, but over the years, I've found the following areas to be the most important.
INDOORS
Plumbing
A gorgeous farmhouse sink can be mesmerizing, but be sure to inspect any pipes and plumbing underneath kitchen sinks, bathroom sinks, and other fixtures where water damage, mould or a leak may occur. Mould can create a foul odour and can potentially be harmful to people living in the house, while water damage can have an effect on the structural integrity of a home if it's not caught soon enough.
Heating and Cooling
Much like inspecting the plumbing, it's also a good idea to inspect the heating and cooling systems in a house, especially if the home is older. These systems can be pricey to fix/replace and can be a large burden if they stop when they're needed most (Ex. Furnace could stop break through the winter or the air conditioner could stop working over the summer). Inefficient systems can also lead to higher utility bills.
Test Everything
As you walk around and inspect each room, test every light switch, window, door, drawer, faucet, toilet, door handle and anything else you see. These things may appear new and in working condition, but sometimes can be finicky and require additional maintenance. The last thing you want is to move into your new home and find out it's riddled with odd problems. Testing everything will help you understand what might need work later on and what things the seller needs to fix before you purchase.
OUTDOORS
The Roof
Inspect the roof as you walk up to your potential new home. If you can spot any glaring holes in the shingles or areas that seem to be severely damaged, chances are the roof could need to be repaired or replaced. This project can range in price depending on how much or how little needs to be replaced, so it's important to consider when looking at the price of the home.
The Exterior of the Home
With a large amount of the snow gone, now is the perfect time to inspect the exterior of a home. While you'll spend the majority of your time inside the house, the exterior can sometimes be the culprit of some costly projects that could have been foreseen. As you walk around the house, consider these things:
Are there any cracks in the foundation? A crack in the foundation can often be cosmetic, but sometimes structural. Make note of any cracks you spot to ensure you have them inspected later on. Structural cracks can be an extremely costly repair.
Do any trees look like they could fall down? Mature trees can pose a serious threat to your family, home and outdoor space if they are rotten or breaking down. And depending on where the tree is in relation to your property determines whether you're responsible for paying to have the tree removed or if the city is.
What condition are the exterior doors and siding in? With a little elbow grease, dirty doors and siding can often be restored to look new again. However, dents, rot and other damage are things that can't be restored and will need to be replaced or repaired.
Does the driveway need to be replaced? It may only be a place to park your car, but driveways can be a large money pit if they need to be replaced.
Surrounding Area
Once you're done inspecting the house, another key thing to consider is the surrounding area. Do the local shops and restaurants suit your lifestyle? How long is your commute to work during peak traffic hours? Is your home at risk of flooding if the water levels rise? If you have kids, is the area family-friendly? Are you close to schools? All these factors should play an important role in your purchase decision to ensure the home you choose is right for your family.
The importance of a Realtor and Home Inspector
While these are all major things to look at when buying your next home, they are merely a small portion of the entire list. It's important you partner with a licensed realtor for your entire purchasing journey to ensure you know all there is to know about a house before purchasing.
Much like you're an expert at your job, realtors are experts at everything real estate and can eliminate the majority of the risks associated with buying a house. As a realtor with over 18 years of experience buying and selling homes, I've made it my business to not only know what to look for inside and outside a home, but also learn everything there is to know about the neighbourhoods of Guelph and the surrounding area.
As a final step before purchasing, every home whether it's new or old should be inspected by a trusted home inspector. This will be the time when you find out what problems are structural and what ones are not and will give you the best understanding of the condition of the home. It's also important you use a trusted home inspector, while your family friend may be studying to be a carpenter, they are no match for a home inspector with years of experience.
If you have any questions regarding the home buying process, would like a home inspector recommendation or would like to meet with a realtor and begin searching for your new home, don't hesitate to call me at 519-993-5656 or send me an email using the form on the contact page. I would be more than happy to assist you.